Large volumes of water discharge off a home's roof and can compound a basement or crawl space moisture problem. Depending on the roof design, the amount of water can often be too much for even a yard that is properly graded away from the house. Sometimes we need to add gutters and downspouts to the roof eaves. However, all roofs do not need gutters, in fact, most do not.
DID YOU KNOW?
Building code does not require a house to have gutters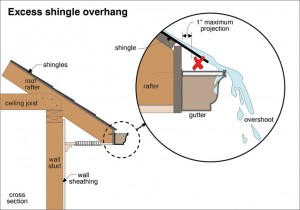 Controlling roof drainage is important, but it is never a substitute for proper grading. Too often frustrated homeowners look for the quickest and easiest fix to a basement moisture problem. When landscaping and hardscaping is too difficult or too expensive they look for a short cut. The easy answer is to install gutters, but roof drainage is always secondary to correct earth grading. So, if the landscaping and hardscaping are positively sloped away from the house and the foundation is still damp or wet then adding gutters to the roof is essential. Gutters will manage the surface water coming off the roof and, if properly installed, harmlessly drain it away from the foundation.
So how would a homeowner or real estate agent know when a home should have gutters?
The design of the house is the most common indicator. Homes that most often need to control roof drainage to stay dry have any one or all of the following characteristics:
• Steep roof pitch
• Roofs with valleys
• No overhangs or small roof overhangs
These house styles dump huge amounts of water directly on the foundation which, depending on the type of soil, will saturate the earth adjacent to the walls. These wet soils will hold moisture on or adjacent to the foundation which will eventually migrate towards and run down alongside the basement or crawl space walls. Gutters with the proper extensions will direct this water away from the house.
Understanding that all homes do not need gutters to stay dry…then what could be worse than a roof that needs gutters and doesn't have any? How about a roof that has gutters with no or short downspout extensions…why?