What Makes My Window Panes Wet?
Problem:  The window is wet on the room side of the glass for a few weeks in fall.
Solution:   Moisture has accumulated, over summer, in the structure of the house from cooking, showering, and even the family breathing. This can be overcome by having fans exhausting to the outside in the kitchen, bathrooms and laundry.
Problem:  The window is wet or has frost on the room side of the glass in the winter.
Step 1:  Keep window drapes up 2-3" above the window sill to allow for air circulation.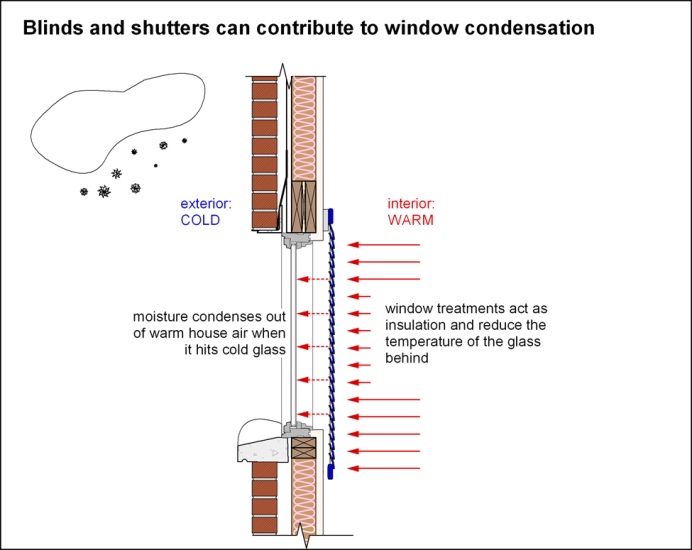 Step 2:  Install bath and kitchen exhaust fans that vent directly to the outside of the home.  Turn on the fan when room is in use.
Step 3:  Put timer switches on all exhaust fans; keep the fan running for a half hour after the user leaves the room.
Step 4:  Install a continuous rated exhaust fan in the highest level hallway or bath.  This fan should be variable speed from 30 to 110 cubic feet per minute (CFM).  Be sure there is an outside air supply into the furnace room in the basement.  Leave fan running 24/7.
Solution:  Take this slowly, one step at a time.  You may not need to do all 4 steps.
Problem: The window glass is wet or fogged in between 2 glass panes all year round, but most noticeable in the winter.
Solution:
Insulated glass:  The air seal is leaking and glass must be replaced.
Storm windows:  Glass putty must be in place and sealed tight to wood sash.  Wood sash must be sealed tight to the window frame.
All humidity problems are fixable.  Winter relative humidity levels are typically 30 to 40%.  On super cold days you may need to reduce the humidity to 25%.

Doug Hastings
MN Home Inspector, Minneapolis & St. Paul
ASHI Certified Inspector, ACI
Kaplan University, Home Inspection Lead Instructor

'Pops' Rob Leslie
Kaplan Professionals, Retired
Follow Cities Inspection's on Facebook for more informational house tips.