Is a home inspection necessary?
This question is asked often because many homeowners and realtors do not realize just what an inspector does. A home inspector's task is to represent the voice of the house. A good inspection report will tell you precisely the condition of the house at the time of writing. A well-written report will direct an owner, buyer, or seller to any action that is required to bring a house up to good condition relevant to its age.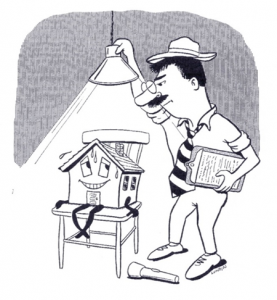 These days, most realtors realize that a home inspection is necessary at time of sale. Today, more than 90% of buyers have a home inspection, so that they know exactly what they are buying. Sellers are also learning the value of a home inspection. A good inspection will tell them what they are really selling and help overcome the surprise of being asked for concessions at close.
A home inspector is not an engineer and does not have a crystal ball. A good inspector cannot predict what is going to happen in the future or what the value of the house will be down the road. Assessing value is the task of the appraiser and life expectancy comes from plumbers, window suppliers, and other specialists. However, the home inspector should be an expert in understanding exactly what is happening to the house at the time of the inspection. In fact, a good home inspector needs to have a solid grounding in all of the elements and systems of a home.
How do you identify the right inspector for you?
When you are looking for the right fit, you need to find someone who is ASHI certified, has reputation, business longevity and can produce testimonials from realtors who have used their services over time.
Rob 'Pops' Leslie
MN Home Inspection
Minneapolis & St. Paul