I never had frost buildup on my windows before!
Like many houses my 1974 rambler was in need of attention.  For the past 5 years my justification for postponing the needed exterior maintenance was the bad economy.  I felt investing a large sum of money in the house was not wise.  Some of you may agree with this and some will not.  Regardless, at the insistence of my wife, last summer became the year of THE HOME IMPROVEMENT.  We contracted for new roof, windows, doors, siding, soffits and fascia.  Keep in mind to meet new state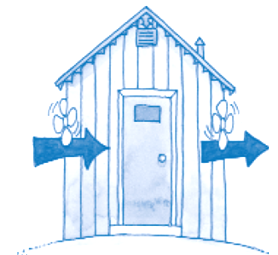 building and energy code requirements housewrap, window and door flashing, caulking, weather-stripping, and low E glass need to meet a very high standard of insulation and heat loss.  This old leaky house no longer leaked.  It is warm and comfortable inside, but this lack of breathability resulted in very large frost buildups on all of our windows and doors as soon as the weather changed.  Any home inspector would quickly recognize this as a problem that needed to be resolved now.  By ignoring this very obvious moisture sign, which many homeowners do, the next concern is going to be mold.  (http://bit.ly/19ut8aA)
I never had radon before!
But…it didn't stop there.  As a MN home inspector radon testing is a big part of our business operation.   I had tested the basement previously and my radon concentration was at the minimum EPA standard of 4.0 picocuries.  Upon re-testing after the exterior remodeling was completed, my radon level is 3 times higher.  What is the lesson to be learned from these 2 events? (http://bit.ly/1huOoxd)
Houses work as a system.  By changing the exterior envelope of a home it will have a huge impact on how the interior functions.  What was never a problem yesterday may be a major problem today. 
Doug Hastings
MN Home Inspector, Minneapolis & St. Paul
ASHI certified inspector, ACI
Kaplan University, Home Inspection Lead Instructor
Rob 'Pops' Leslie
Kaplan Professionals, Retired