Sellers must declare the results of any radon test to potential buyers beginning January 1, 2014.
This new MN Radon law is quite wordy, but can be essentially distilled down to just two issues:
Testing by the seller is not mandatory.
The event of a radon test having been performed, the result must be made available to potential buyers before the sale is closed.
Buyer's agents will obviously be recommending to their clients that they request a radon test from the seller. Selling agents should get ahead of this by recommending to the client that they have a radon test performed and any needed mitigation carried out before the house comes onto the market.
Testing is not expensive and should be carried out by a reliable professional.
Many quality home inspectors offer this service. In the event that mitigation is required, care must be taken to find a reputable mitigation professional. Mitigation is usually quite inexpensive and can be as simple as balancing the ventilation of the house. This can be done by installing an outside air inlet duct balanced by a continuously operating exhaust fan. A bathroom fan would be a good example. Balanced ventilation overcomes negative pressure, which draws radon into the home through the foundation wall or floor.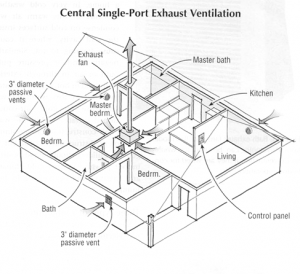 Balancing ventilation can create a real bonus because moisture is often drawn into the house through negative pressure and that moisture creates an ideal atmosphere for mold growth. So by simply balancing the ventilation in a house: you may often have three benefits. Radon intrusion will be overcome, moisture will be reduced, and mold will be prevented.
Very often, after the ventilation of the house has been balanced, simply applying a coat of a radon resistant material to the floors and walls of the basement will resolve the radon issue. More expensive mitigation may be necessary, requiring the installation of either a passive or mechanical radon ventilation system. However, the cost of mitigation should not exceed one to two thousand dollars; even when the mechanical system is installed. In the case of balanced ventilation the cost may be as little as a few hundred dollars.
Be proactive: make certain that a radon test is done on every sale and use a qualified home inspector to ensure a professional result.
Doug Hastings
MN Home Inspector, Minneapolis & St. Paul
ASHI certified inspector, ACI
Kaplan University, Home Inspection Lead Instructor
Rob 'Pops' Leslie
Kaplan Professionals, Retired