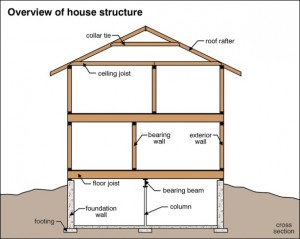 Approximately 90% of all structural building failures are caused by moisture. This problem is clearly the #1 enemy of any home. Regardless of age, style, or location; moisture is extremely damaging and all homeowners, home buyers, or real estate professionals need to be able to recognize it.
To begin understanding moisture, it's important to understand what the structure of a house is. There are 4 parts to the buildings 'super' structure and they are the:
1. Foundation
2. Floors
3. Walls
4. Roof
Moisture can easily enter these spaces from either outside or inside of the building. Sometimes moisture is visible on the surface of building materials making it easy to recognize, but most of the time it is located in concealed spaces behind the finished building materials that are not visible to the untrained eye. The longer dampness remains unchecked the more damaging and expensive it becomes to remedy.
This begins our journey; together we will methodically go through the entire house searching out this most elusive nemesis. Some of the concerns will be simple and easily understood, while others may be a bit more complex. It is my hope, that in the end, you will better understand moisture and its negative impact on the home.
Doug & Julie Hastings
Your House Whisperers
Minnesota Home Inspectors